Use this method if you would like to retain the folder structure you have been using in your RefWorks database.
---
1. Open RefWorks and select the folder you wish to export content from (e.g. from the folder view on the right-hand side)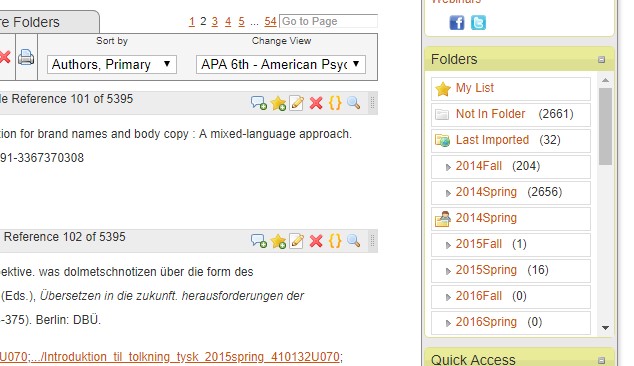 2. Move the mouse/cursor over References and select Export
3. Check that the folder you wish to export content from is displayed alongside References To Include From and that All in List is selected
4. Alongside Select an Export Format choose Bibliographic Software (EndNote, Reference Manager, ProCite) and then click Export References
5. Your file of exported references will either be shown as text in your browser, or you will be able to save the file to your computer. This depends on your browser. If you see your references in the browser, you should save the text as a .txt file. You can do this by right-clicking in the browser window and selecting Save as.
6. Open EndNote and select File --> Import --> File.
Alongside Import File: navigate to the .txt file you have just saved on your computer Alongside Import Option: choose Reference Manager (RIS). Select Other filters: if the RIS option is not visible Click Import
7. Your references have now been transferred to EndNote and can be located in All References, as well as in the temporary folder Imported References. In order to move the references to a similar folder in EndNote, you must create the folder (group)
8. Right-click on My Groups in EndNote and select Create Group. Rename the folder/group
9. Go to the temporary folder Imported References, mark all the references by clicking Ctrl+A (Command+A on a Mac)) and drag & drop the references into the newly created folder/group
10. Complete steps 1-9 for all the folders you have in RefWorks